What is Honda's Plan For CR-V and Civic Oil Dilution?
Posted on

Author

Tagged
Key Points
The 1.5L Earth Dreams engine is allowing fuel to leak into the crankcase where it mixes with engine oil.
The diluted mixture raises the level of oil in the oil pan and can lead to serious engine damage.
The problem has caused a wide range of responses from different countries, including stop sales and service campaigns depending on where you live.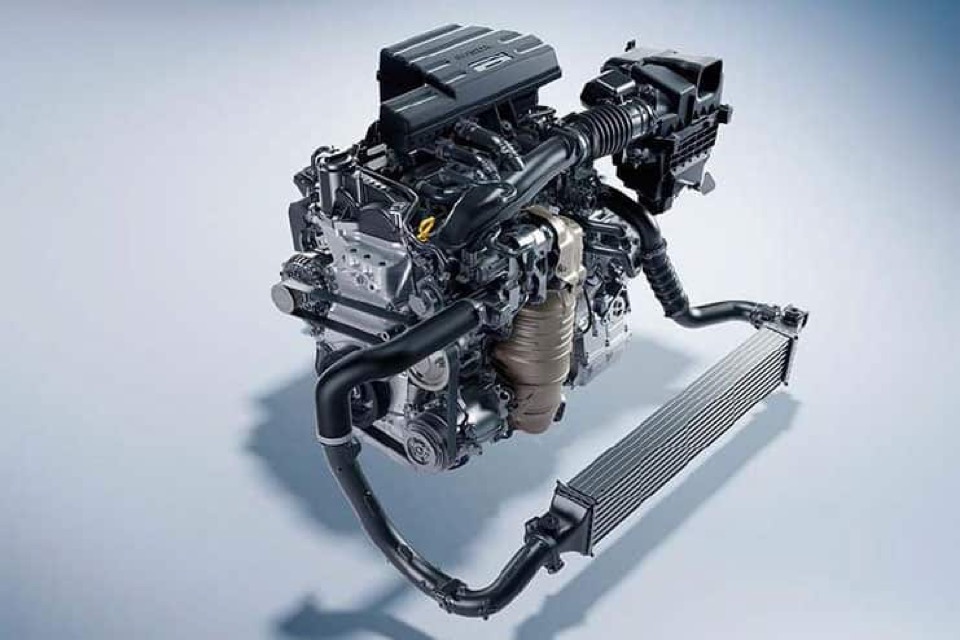 Oil dilution is a known issue for owners of the 5th generation CR-V and 10th generation Civic What are the consequences of diluted oil? Well in this case there are quite a few.
The check engine light comes on once the oil level reaches 21mm above the dipstick's current limit.
Reports indicate the problem creates a stinky, gas-fumed cabin that's so bad owners feel nauseous and dizzy while driving.
In certain cases owners have said their engines have misfired or stalled once the oil becomes diluted.
Direct Injection Engines Have a History of Oil Dilution Problems ∞
Honda's Earth Dreams technology is part of a direct-injection engine which pumps fuel directly into the chamber under high pressure. These engines are great for performance and fuel efficiency, but have been more susceptible to oil dilution.
Sprayed fuel sticks to the cylinder walls and eventually travels down into the crankcase where it mixes with the engine oil in the oil pan.
Automakers depend on engine heat to help burn off these fuel vapors, but if the engine never gets hot enough the fuel eventually dilutes the engine oil and raises the overall oil level.
Long term effects of gas thinned oil in the engine? ∞
The Honda Technology Research Institute conducted lab and real-world driving tests in the extreme cold of northern China and determined that high oil levels do not cause engine damage.
Tell that to these owners.
"Although Honda in China stated in a press release that this issue would not cause engine damage I believe my oil analysis report provides evidence to the contrary. I was told upon receiving my report that oil was at approximately 5% of the viscosity it should have and that the wear metals number should not be higher than 20. My number was 218. That's insanely high. Honda has yet to respond to this oil analysis report."
And
"…the dealer has told me they will replace entire cylinder head. They have not told me that there is a fix to the cause of the problem nor can they tell me how long it will take to fix the damage. Honda needs to address this problem and communicate with their affected customers as to what the plan is. They also need to either offer buy-backs or extend the warranty once resolved to 6 years."
Who's to Blame for the Rising Oil Levels? ∞
Honda is quick to point out a couple of reasons why their engines have this problem, and both seem to revolve around placing blame on drivers.
Too many short distance trips in cold weather ∞
The first is drivers who only take short trips, especially in cold weather areas, aren't allowing the engine to sufficiently heat up and burn off excess vapors.
Listen, they're right — lots of short trips aren't good for any engine. But 2016 and older Honda owners aren't the first group to take short trips. So why is there a higher-than-average number of complaints about dilution issues in the 2017 and 2018 CR-V, and the 2016, 2017, and 2018 Civic?
Honda says the engine is too efficient? ∞
Honda says that the design of their efficient engine design doesn't waste any heat.
With minimal wasted heat your engine can develop condensation and excess fuel vapors than combustion if not driven in a manner that allows the engines to fully reach operating temperature which would normally burn off the contaminates.
This might also explain why people are having a hard time warming up their cars while idling.
Honda is asking drivers to limit extended idling, use a block heater, drive in lower gears at the start of trips, and drive for longer trips to help the engine warm up.
Because when life gives you lemons, blame the sourness on someone else.
Honda's Proposed Solution for Rising Oil Levels ∞
At first, there was quite a discrepancy in how Honda was handling this issue based on where you live.
Honda Canada's more aggressive approach ∞
Out of the gate, Honda Canada took an aggressive approach by offering service campaign N60 to Canadian owners of the 2017-2018 CR-V and 2016-2018 Civic starting in November 2018. Additionally, owners received a warranty extension on "certain engine components" for up to six years from the original date of purchase, with no mileage limit.
This is all part of Honda CA's more aggressive approach towards the problem:
April 2018: They released a TSB regarding the engine misfiring and oil pressure warning lights coming on during cold weather. The TSB confirmed reports of a higher-than-normal engine oil level due to contamination from fuel build-up in the 2015-2018 CR-V and 2016-2018 Civic.
August 2018: They took it one step further by releasing a statement saying they were aware of the problem and were working on potential counter-measures. Those counter-measures appear to be the inspiration for the fixes mentioned above.
October 2018: They released a new statement regarding Irregularly High Oil Levels in Certain Honda Vehicles. In it, they confirm news about the software updates and offer extended warranties on "certain components" in the 2017-2018 CR-V and 2016-2018 Civic.
Similar protections have eventually made their way across the border and into the states, but barely at first.
Honda US took a longer path ∞
When Honda US first announced their service campaign in October 2018, it was limited to owners in five cold-weather states — Maine, Minnesota, North Dakota, South Dakota, and Wisconsin. Additional states would be added as parts became available, for a grand total of 21 states.
Please note that this is an extreme cold weather issue related to drivers who rarely drive longer than very short trips, often before the engine can properly warm up. Thus, it's not very common in the US when compared to overall CR-V sales volume (nearly 380k sold last year in the US).
By May of the following year, Honda US changed their tune. Not only is the service campaign now available to owners in all 50 states, but Honda US also extended the powertrain warranty for more than 1 million vehicles. The extended warranty matches Honda Canada's offer of 6 years from the original purchase date, with no mileage limit.
Honda US service campaign information ∞
Honda will attempt to fix the oil dilution problem with a service campaign that includes:
Software updates to the transmission control module and electronic fuel injection system.
Replacing a drain plug washer
Replacing the climate control unit (in some cases)
A fresh oil change
Honda believes these updates will allow the engine to warm up faster and improve fuel combustion.
A Stop-Sale Ordered in China ∞
In February 2018, Dongfeng Honda – a Chinese car company half-owned by Honda – ordered a recall of 350,000 vehicles after numerous complaints from owners in the colder regions of northern China.
Honda planned on updating the vehicle's gasoline injection control software to adjust the timing and speed of the injection. They also planned on extending the engine's warranty to 6 years.
But the emphasis is on plan, because the recall was rejected by Chinese regulators, who want a better plan for fixing the problem.
Until a new recall is agreed upon, Honda has issued a stop-sale on all new CR-Vs in China.
Potential class-action lawsuit in the USA ∞
The law firm of Sauder Schelkopf LLC is currently investigating a class-action lawsuit on behalf of owners of 2016-2018 Honda CR-V vehicles that are prone to engine oil contamination.
Sauder Schelkopf (www.sauderschelkopf.com) is a leading national class action law firm that advances the interests of its clients by recovering the money they have lost, and obtaining the relief to which they are entitled. The lawyers at Sauder Schelkopf have recovered millions of dollars on behalf of consumers and have earned their reputation as skilled and aggressive veteran litigators
Generations Where This Problem Has Been Reported
This problem has popped up in the following Honda generations.

Most years within a generation share the same parts and manufacturing process. You can also expect them to share the same problems. So while it may not be a problem in every year yet, it's worth looking out for.
10th Generation Civic

Years

2016–2020

Reliability

47th out of 58

PainRank™

27.22

Complaints

471

Learn more about the 10th Generation Civic

5th Generation CR-V

Years

2017–2020

Reliability

43rd out of 58

PainRank™

21.19

Complaints

481

Learn more about the 5th Generation CR-V
Further Reading
A timeline of stories related to this problem. We try to boil these stories down to the most important bits so you can quickly see where things stand. Interested in getting these stories in an email? Signup for free email alerts for your vehicle over at CarComplaints.com.
Honda will extend the powertrain warranty on more than 1 million vehicles in the US that continue to have oil dilution problems.

The 1.5-liter Earth Dreams engine is notorious for gasoline diluting the oil, which triggers warning lights, hurts performance, and creates an awful smell inside the cabin. The extended warranty is available to owners in all 50 states despite Honda's insistence that the issue only happens in extreme cold weather.…

keep reading

article "Honda Extends Powertrain Warranty for 1 Million Vehicles With Oil Dilution Problems"

There's a fix coming for rising oil levels in the CR-V and Civic, but your eligibility largely depends on where you live.

Honda's N60 service campaign will attempt to fix the oil dilution problem with software updates to the transmission control module and electronic fuel injection system. Additionally, drain plug washers and climate control units may be replaced.…

keep reading

article "Honda Has an Oil Dilution Solution, For Some"

There is something funky about Honda's new Earth Dreams engine, especially in cold-weather climates.

A growing number of complaints involve high oil levels and the strong smell of gas inside the cabin of the CR-V and, to a lesser extent, the Civic.

The automaker says the cold climate and short trips cause condensation and excess fuel vapors if the engines don't have time to reach temperatures that would normally burn off the contaminants.

Honda says excess fuel builds up and stays in the oil pan where it would normally evaporate and recycle through the combustion chamber of the engine.…

keep reading

article "China Rejects Honda's Recall Plan for CR-Vs With High Oil Levels and Fuel Odors"
OK, Now What?
Maybe you've experienced this problem. Maybe you're concerned you will soon. Whatever the reason, here's a handful of things you can do to make sure it gets the attention it deserves.
File Your Complaint

CarComplaints.com is a free site dedicated to uncovering problem trends and informing owners about potential issues with their cars. Major class action law firms use this data when researching cases.

Add a Complaint

Notify CAS

The Center for Auto Safety (CAS) is a pro-consumer organization that researches auto safety issues & often compels the US government to do the right thing through lobbying & lawsuits.

Notify The CAS

Report a Safety Concern

The National Highway Traffic Safety Administration (NHTSA) is the US agency with the authority to conduct vehicle defect investigations & force recalls. Their focus is on safety-related issues.

Report to NHTSA