Which Honda Vehicles Have Dangerous Takata Airbags?
Posted on

Author

Tagged
Key Points
The Takata airbag recall is the largest automotive recall in U.S. history with more than 100 million vehicles affected worldwide.
The inflators become unstable over time and can rupture / explode during an airbag deployment, shooting metal fragments into the cabin.
The problem is responsible for at least 27 deaths worldwide.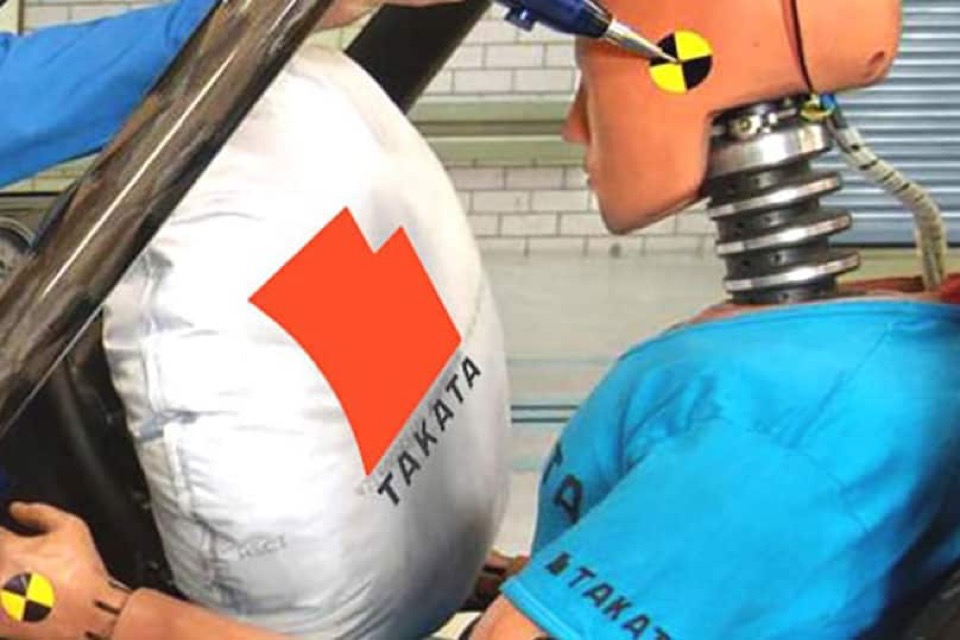 Takata's inflators use a chemical called ammonium nitrate to inflate the airbag during a crash. The ammonium nitrate can become unstable when exposed to temperature fluctuations or high humidity, causing the inflators to explode with an unexpected amount of force. How much force? Enough to rupture the metal canister during a deployment and spray sharp fragments out into the cabin during a crash.
According to the National Highway Traffic Safety Administration (NHTSA), at least 15 drivers have been killed and 250 people injured by an exploding Takata inflator.
High Risk Vehicles ∞
Certain 2001-2003 Honda and Acura vehicles have been labeled as having a "high risk" of airbag inflator ruptures. In late June 2016, NHTSA urged owners of these cars to stop driving immediately.
"With as high as a 50 percent chance of a dangerous airbag inflator rupture in a crash, these vehicles are unsafe and need to be repaired immediately," said U.S. Transportation Secretary Anthony Foxx. "Folks should not drive these vehicles unless they are going straight to a dealer to have them repaired immediately, free of charge."
| Make | Model | Years |
| --- | --- | --- |
| Acura | CL | 2003 |
| | TL | 2002-2003 |
| Honda | Accord | 2001-2002 |
| | Civic | 2001-2002 |
| | CR-V | 2002 |
| | Odyssey | 2002 |
| | Pilot | 2003 |
To their credit, Honda has gone through an unprecedented effort to notify owners on this list. In addition to going door-to-door looking for registered owners, Honda has made over 35 million phone calls and sent over 1 million text messages to any owner whose vehicle is still unrepaired.
According to NHTSA's data, however, only 70% have received repairs. That leaves 313,000 vehicles that need critical repairs immediately. If you own one these cars:
Visit SaferCar.gov to check whether their vehicle has any outstanding safety recalls.
Call your nearest dealer and schedule a no-cost, immediate repair.
Full List of Honda Vehicles with Recalled Takata Inflators ∞
Given the scope of these recalls, NHTSA decided to spread out the recalls to get replacements to owners in the highest-risk regions or zones first. The last wave of inflator-related recalls is expected to begin in early 2020.
A zone is a group of states and territories where a vehicle was originally sold or registered at some point in time.
Zone A: Alabama, California, Florida, Georgia, Hawaii, Louisiana, Mississippi, South Carolina, Texas, Puerto Rico, American Samoa, Guam, the Northern Mariana Islands (Saipan) and the U.S. Virgin Islands.
Zone B: Arizona, Arkansas, Delaware, District of Columbia, Illinois, Indiana, Kansas, Kentucky, Maryland, Missouri, Nebraska, Nevada, New Jersey, New Mexico, North Carolina, Ohio, Oklahoma, Pennsylvania, Tennessee, Virginia and West Virginia.
Zone C: Alaska, Colorado, Connecticut, Idaho, Iowa, Maine, Massachusetts, Michigan, Minnesota, Montana, New Hampshire, New York, North Dakota, Oregon, Rhode Island, South Dakota, Utah, Vermont, Washington, Wisconsin and Wyoming.
| Make | Model | Years | Limited To |
| --- | --- | --- | --- |
| Honda | Accord | 2008-2013 | Zone A |
| | | 2008, 2010 | Zone B |
| | | 2009 | Zone C |
| | | 2012 | |
| | Accord (4-cylinder) | 2001-2007 | |
| | Accord (V6) | 2001-2002 | |
| | Accord Crosstour | 2008-2013 | Zone A |
| | | 2010 | Zone B |
| | Civic | 2006-2011 | Zone A |
| | | 2006-2008, 2010 | Zone B |
| | | 2009 | Zone C |
| | | 2001-2011 | |
| | Civic GX | 2006-2011 | Zone A |
| | | 2006-2008 | Zone B |
| | Civic Hybrid | 2003-2005 | |
| | | 2006-2013 | Zone A |
| | | 2006-2008, 2010 | Zone B |
| | | 2009 | Zone C |
| | Crosstour | 2010-2012 | |
| | CR-V | 2005-2013 | Zone A |
| | | 2005-2008, 2010 | Zone B |
| | | 2009 | Zone C |
| | | 2002-2004 | |
| | | 2016 | |
| | CR-Z | 2011-2015 | |
| | Element | 2003-2011 | Zone A |
| | | 2003-2008, 2010 | Zone B |
| | | 2003-2004, 2009 | Zone C |
| | FCX Clarity | 2010-2013 | Zone A |
| | | 2012-2014 | |
| | Fit | 2007-2013 | Zone A |
| | | 2007-2008, 2010 | Zone B |
| | | 2009 | Zone C |
| | | 2007-2014 | |
| | Insight | 2010-2013 | Zone A |
| | | 2010 | Zone B |
| | | 2010-2014 | |
| | Odyssey | 2002-2004 | Zone A, B, C |
| | Pilot | 2011-2013 | Zone A |
| | | 2003-2008 | Zone A, B |
| | | 2010 | Zone B |
| | | 2003-2004, 2009 | Zone C |
| | | 2005-2012 | |
| | Ridgeline | 2006-2013 | Zone A |
| | | 2006-2008, 2010 | Zone B |
| | | 2009 | Zone C |
| | | 2012-2014 | |
More information about the "zones" is available on CarComplaints.com.
Take Action ∞
Owners of these vehicles are urged to call the National Highway Traffic Safety Administration (NHTSA) safety hotline at 1-888-327-4236 or visit this site for more information.
"Consumers that are uncertain whether their vehicle is impacted by the Takata recalls, or any other recall, can contact their manufacturer's website to search, by their vehicle identification number (VIN) to confirm whether their individual vehicle has an open recall that needs to be addressed."
Honda Owners Killed or Injured by a Takata Airbag Inflator ∞
A list of alleged Takata airbag deaths and injuries going back to 2003 has started to surface following government investigations, recalls and a growing number of lawsuits. That includes the tragic stories of the following Honda owners:
Delia Robles, Corona, California — On September 30th, 2016, Robles hit a Chevy pickup head-on at an intersection, causing the airbag to explode when it deployed.
13 Year Old Boy from Grove City, Pennsylvania — On July 22, 2015, a 13 year old apparently took the keys to the family's Honda Accord, lost control and traveled off Route 58 in Mercer County. The 4:46 a.m. crash caused the front airbag to explode after the car hit a fallen tree.
Ashley Parham of Midwest City, OK — On May 27, 2009, just days after graduating high school, Ms. Parnham's 2001 Honda Accord bumped another car at slow speeds in a parking lot. It was enough to trigger the airbags and the defective Takata inflator ruptured and sent metal shards throuh Ms. Parnham's carotid artery. She was only 18 years old and dreamed of becoming a teacher.
Gurjit Rathore of Richmond, VA — On Christmas Eve 2009, 33-year old Gurjit Rathore was driving her 2001 Honda Accord when she hit a mail trunk. The airbag detonated and sent shrapnel through the cabin that tragically caused Ms. Rathore to bleed to death in front of her children.
Hein Tran of Orlando, FL — Mrs. Tran was killed by an exploding Takata airbag in her 2001 Honda Accord during a low speed accident. When law enforcement showed up, the wounds were so severe that they thought she had been stabbed in the neck.
Law Suk Leh of Borneo, Malaysia — Mrs. Leh was killed while driving her 2003 Honda City from a severe puncture wound to the neck. She was in the final week of her pregnancy.
Generations Where This Problem Has Been Reported
This problem has popped up in the following Honda generations.

Most years within a generation share the same parts and manufacturing process. You can also expect them to share the same problems. So while it may not be a problem in every year yet, it's worth looking out for.
Further Reading
A timeline of stories related to this problem. We try to boil these stories down to the most important bits so you can quickly see where things stand. Interested in getting these stories in an email? Signup for free email alerts for your vehicle over at CarComplaints.com.
The 4th phase of Honda's Takata airbag recall is set to get underway next month.

Honda says it has made a lot of progress with existing recall repairs because plenty of replace airbag inflators are available. The 77.7 percent completion rate out of nearly 13 million recalled vehicles has allowed Honda to issue the recall now instead of waiting until December. An automaker that's actually ahead of schedule on a recall? What world is this?…

keep reading

article "The Next Phase of Honda's Massive Takata Recall is Ahead of Schedule"

Malaysia has had enough of people ignoring Takata airbag recall warnings, and will start imposing fines] on owners who don't get their recalled inflators fixed.

Malaysian Transport Minister, Anthony Loke, made the announcement following confirmation of another death in a Honda vehicle that involved a ruptured Takata airbag inflator. Or in this case, Honda says two Takata airbag inflators ruptured in the same crash.…

keep reading

article "Malaysia is Tired of Owners Ignoring Takata Warnings"

Takata's chapter 11 bankruptcy plan has been approved by a Delaware judge.

While that means some reorganization, pay-offs for creditors, yadda yadda etc ... the dollar figure I was interested in involves how much is being set aside for injury victims.

The action makes official the agreement that requires the airbag manufacturer to pay $850 million to help automakers cover some of the cost for airbag recalls. Another $125 million will be paid to compensate drivers injured by exploding airbags.

The plan also includes a "channeling injunction" for future victims. Unfortunately I don't see any mention of compensation for the families of people killed by the inflators, but I'm sure we'll see future litigation in those cases.

keep reading

article "Takata's Bankruptcy Has Been Improved. What Does That Mean for Victims?"

Nichol Lynn Barker Pahlck's 2002 Honda Accord was involved in a "crash that should not have been fatal," according to Florida authorities.

Pahlck's family denies receiving any recall notices although Honda said in previous statements that 21 airbag recall notices were mailed over the years to registered owners of the Accord, including 10 recall notices sent to the current owner.

The 2002 Accord is part of the Takata "High Risk" list. Regardless, these stories are hard to read and point to the importance of getting any recalled inflators replaced.

keep reading

article "2002 Accord Mother of Three Killed by Takata Airbag"

It's a new year, so we're out with the old and in with the ... ahh, crap. There's another Takata recall for Honda owners? 2018 ... 2017 ... it's all the same.

This recall involves 717,000 vehicles which, I believe, brings the grand total of recalled vehicles to 72 quadrillion or so.

The Takata airbag inflators are at risk of exploding due to the metal inflators that contain the explosive chemical, ammonium nitrate. The chemical can become unstable due to heat, time and moisture, something that has already killed at least 21 people worldwide, most of those deaths occurring in Honda vehicles.

keep reading

article "Honda Vehicles Need Passenger-Side Takata Replacement"

The National Highway Traffic Safety Administration (NHTSA) makes a lot of announcements, but here's one thing you'll rarely hear from them: a plea to stop driving your car. Immediately.

NHTSA says based on new testing of Takata airbag inflators, 313,000 older vehicles have a 50 percent chance of experiencing ruptures of the inflators during the deployment of the airbags. A FIFTY percent chance. That's about 49.999999% too high.…

keep reading

article "NHTSA to Honda Owners: Stop Driving Immediately"

If you thought one recall for Takata airbag inflators was a nightmare, you're really not going to like this news from CarComplaints.com.

The 2004-2007 Accord has been recalled because they were assembled with an incorrect front passenger airbag module that doesn't comply with what Honda says is the "advanced airbag requirements._" Or put another way, the fix ain't workin'.…

keep reading

article "Here We Go Again with Takata"

Your vehicle might be involved in one of the largest and most dangerous recalls in automotive history. Honda is recalling 2.2 million vehicles with PSDI-5 Takata inflators.

You've probably heard about Takata by now. They're the ones responsible for airbag inflators that explode with too much force, sometimes sending metal shrapnel flying throughout the cabin. They're also the ones that have been linked to a number of deaths and injuries.

The good news here is that these particular inflators (PSDI-5) don't have the same history of rupturing. The bad news is replacement parts aren't expected to be available until later this year.

Needless to say, Takata isn't going to make anyone's holiday card list.

keep reading

article "PSDI-5 Takata Inflators Recalled in 2.2 Million Honda Vehicles"

An additional 104,000 vehicles are joining the growing list of Honda cars with dangerous Takata airbag inflators. Owners will need to have their car's driver-side inflators replaced.

This includes the 2001 Accord, 2004 Civic, and 2008 Pilot. Honda hasn't said when the recall will begin, but the moment it does you **need to get your airbags serviced.

This is a very dangerous problem that demands attention. Concerned owners with questions can contact Honda customer service at 800-999-1009.…

keep reading

article "More Takata Airbags Recalled"
OK, Now What?
Maybe you've experienced this problem. Maybe you're concerned you will soon. Whatever the reason, here's a handful of things you can do to make sure it gets the attention it deserves.
File Your Complaint

CarComplaints.com is a free site dedicated to uncovering problem trends and informing owners about potential issues with their cars. Major class action law firms use this data when researching cases.

Add a Complaint

Notify CAS

The Center for Auto Safety (CAS) is a pro-consumer organization that researches auto safety issues & often compels the US government to do the right thing through lobbying & lawsuits.

Notify The CAS

Report a Safety Concern

The National Highway Traffic Safety Administration (NHTSA) is the US agency with the authority to conduct vehicle defect investigations & force recalls. Their focus is on safety-related issues.

Report to NHTSA