2nd Generation CR-V Recalled Again For Melting Power Window Switches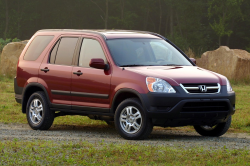 Honda would like a do-over on a previous CR-V recall that was supposed to prevent the power window switches from melting and starting fires. Reports of fires and thermal events, such as melted switches, have actually surged since the vehicles were "fixed" following a 2012 recall. Honda now admits the repairs were probably insuffcient. 😳
About This Recall ∞
The 2012 recall had technicians apply a strip of butyl tape to seal the opening of the original switch assembly. But after investigating a recent fire, Honda found the tape had been applied improperly.
There are over 268,000 affected CR-Vs from the 2002-2006 model years.
The recall (#P9D) is expected to begin on January 18th, 2021.