Honda Announces Large Body Control Module Recall for the Accord, Accord Hybrid, and Insight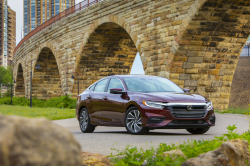 Software mistakes in over 770,000 Honda cars can suddenly disable the power windows, turn signals, windshield wipers, defroster, and rearview cameras. That's a lot of very important things. Honda has issued a recall after discovering electrical disruptions in the body control module's controller area network or CAN. Although I guess in this case it's more like a CAN'T, amirite?
About The Recall ∞
The body control modules were provided by Sumitomo Electric Wiring Systems and will receive a software update as part of the recall.
The issue affects the 2018-2020 Accord and Accord Hybrid, as well as the 2019-2020 Insight.
The recall number is X95 and is expected to begin on January 18th, 2021.