4 Reasons Honda Had to Redesign the Fit Bumper
Posted on

Author

Tagged
Key Points
The 2015 FIT has a disturbingly ineffective front bumper design.
Certain owners may be eligible for a free bumper upgrade through Honda's bumper program.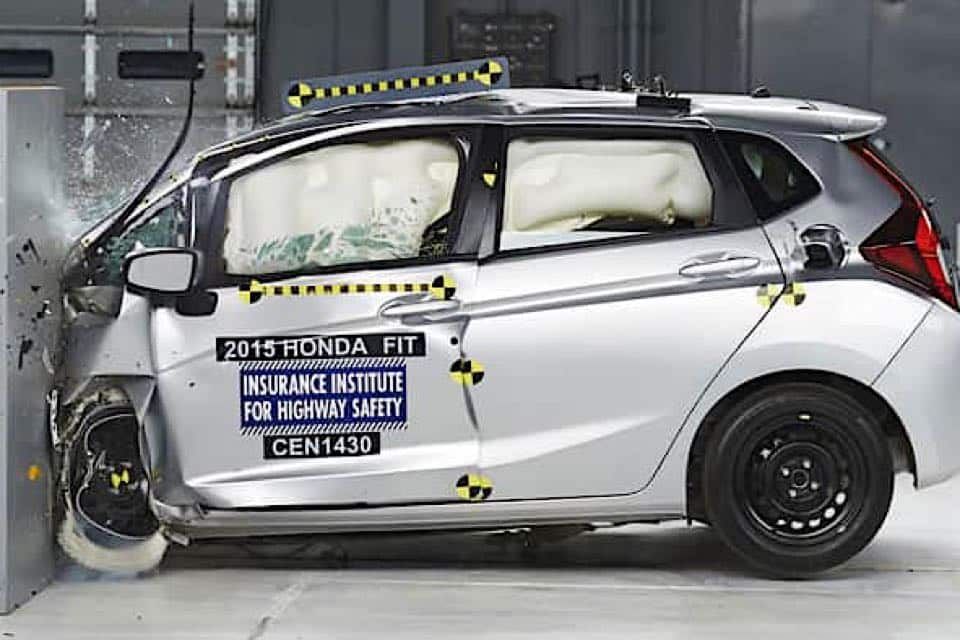 When it came time to test the safety rating of the 2015 Honda Fit bumper, there were high hopes. Sure, the Fit was up against the infamously strenuous small overlap front crash test -- a test known for destroying the dreams of many automakers. And yes -- the Fit didn't exactly have history on its side, with the 5 previous model years all receiving a "poor" safety rating. But that just meant something was bound to give. Surely, the redesigned 2015 Fit would fare better, right?
Wrong. Very, very wrong ... at least at first. Read on to find out why and what Honda is doing about it now.
1. The 2015 Honda Fit Flunked Out of Safety School ∞
Instead of improving on previous model years, the 2015 Honda Fit's front bumper failed the IIHS small frontal overlap test in a way that would make the Ford Pinto cringe.
First, there was the issue of a steel bar, located inside the bumper, snapping and sending crash energy up towards the driver. This caused what the IIHS calls a "severe intrusion" of the driver area. Let's face it, there's no way to sugar coat that.
On top of that intrusion, the steering column moved upward during the crash. Noting like adding insult to injury with a nice little uppercut from the steering wheel.
If you're surprised that a Honda product could do so poorly in a crash test, you're not alone ... that brings us to our second point.
2. The Honda Fit Has a History of Front Bumper Problems ∞
For a company that so often toots its own safety horn, there's a disturbing trend with the Honda Fit that was seemingly ignored. See if you can spot it:

Year after year the Fit has received a "poor" rating for this safety test. While there' little doubt small cars have a tough time with this test, there didn't seem to be any sign of improvement from the team at Honda.
That is, until...
3. Honda Has Initiated a Bumper Replacement Program ∞
Honda was pretty embarrassed by their latest Fit-show (see what I did there?) and went back to the drawing board with their bumper design for the 2015 model year. The result? An upgrade in the safety rating from "poor" to "acceptable".
Honda says they won't issue an official recall, but they will notify owners of the 2015 Fit that they're eligible for a free bumper upgrade.
Owners can contact Honda at 800-999-1009 with questions.
4. The 2015 Fit Has Earned a "Top Safety Pick" from the IIHS ∞
In bumping their rating from "poor" to "acceptable", the 2015 can now be listed as an IIHS "Top Safety Pick." Side note: if they had used that type of grading system when I was in school, I would have been valedictorian.
Generations Where This Problem Has Been Reported
This problem has popped up in the following Honda generations.

Most years within a generation share the same parts and manufacturing process. You can also expect them to share the same problems. So while it may not be a problem in every year yet, it's worth looking out for.
3rd Generation Fit

Years

2015–2019

Reliability

38th out of 58

PainRank™

12.68

Complaints

171

Learn more about the 3rd Generation Fit
OK, Now What?
Maybe you've experienced this problem. Maybe you're concerned you will soon. Whatever the reason, here's a handful of things you can do to make sure it gets the attention it deserves.
File Your Complaint

CarComplaints.com is a free site dedicated to uncovering problem trends and informing owners about potential issues with their cars. Major class action law firms use this data when researching cases.

Add a Complaint

Notify CAS

The Center for Auto Safety (CAS) is a pro-consumer organization that researches auto safety issues & often compels the US government to do the right thing through lobbying & lawsuits.

Notify The CAS

Report a Safety Concern

The National Highway Traffic Safety Administration (NHTSA) is the US agency with the authority to conduct vehicle defect investigations & force recalls. Their focus is on safety-related issues.

Report to NHTSA