Honda's Peeling Paint and Clear Coat Issues
Posted on

Author

Tagged
Key Points
Owners say what starts as discoloration soon turns into full sheets of clear coat peeling off
The unprotected paint is easily damaged or chipped
Honda has only offered suggestions such as "avoid sunlight" to owners. Nice.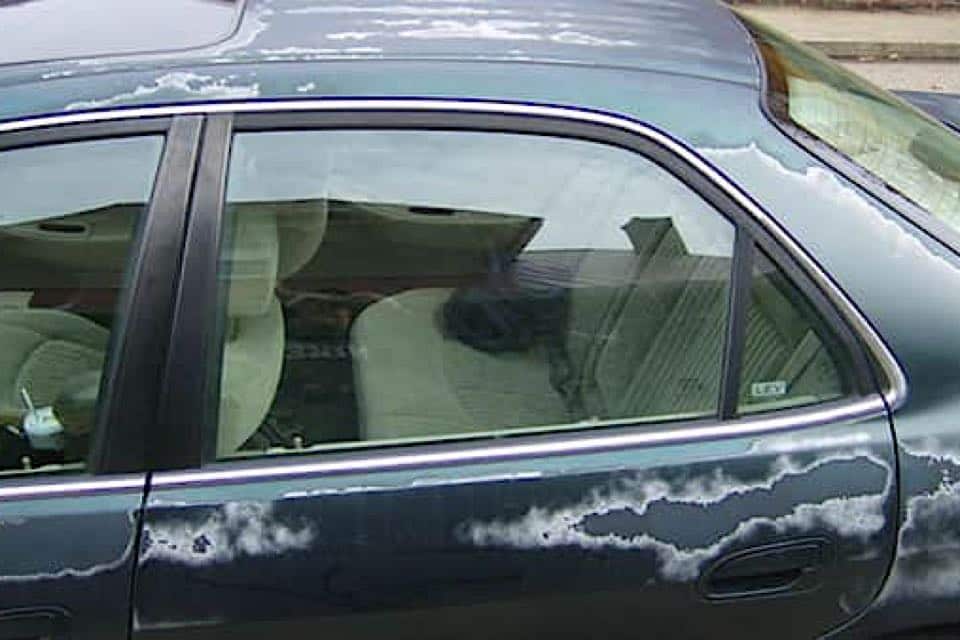 The best way to describe Honda's problems with paint? Well it looks like someone taped steel wool to a monkey's feet and then your covered your car in bananas. Or, alternatively, you could just describe it as giant swatches of paint that are peeling away from your car all the way down to the metal.
Your car's paint has a very tough job. Not only does it have to fight road salt and sand, which can damage the paint's protection. But it also has to battle the sun's harsh, UV rays that oxidize the paint. You can buff and wax until your knuckles turn white, but if you've already lost the clear coat it'll be futile.
Bottom line: if the clear coat starts to turn white, like the case with so many Hondas, the car needs to be repainted. And that can cost thousands of dollars if you want to have it done right (in other words, not cheap out like Honda).
What Honda's Clear Coat and Paint Problem Looks Like ∞
Honda owners claim that the problem begins as a few patches of slight discoloration, where the paint appears lighter or duller than the surrounding area. Eventually the clear coat starts to pull back from the car and chip the paint. This continues to grow into a full-fledged peel-a-thon until your car's paint job starts to resemble swiss cheese.
According to owner testimonials the most susceptible areas are the hood, fenders, around the gas tank, the trunk and the roof. And the condition of a vehicle's paint ranks among the top 5 items that affect a car's resale value, according to Charles Cyrill, spokesman for the National Automobile Dealers Association.
What many Honda dealer's are shrugging off as "normal wear and tear" is actually a widespread trend. There's even an entire Flickr group highlighting the problem. The 1998 Honda Accord alone has 100+ complaints about clear coat peeling on CarComplaints.com.
What is Causing the Problem ∞
While there's no definitive answer to what causes this problem, it is often attributed to the quality of primer and paint that Honda used. Many are calling it a shortcut to save money, others are just saying the paint doesn't hold up well to the conditions.
Most complaints come from those with a dark paint job, with colors like blue, black and red.
Don't Expect Any Help From Honda ∞
Honda issued a paint warranty extension for Dark Blue 2003-2005 Odyssey's back in May 2008. Honda issued a TSB to its dealers who were told to inspect the minivan for peeling, flaking or, in some cases on the hood and the roof, paint "coming off in sheets". Odyssey owners were sent the following note from Honda:
On certain 2003–05 Odysseys with dark blue (midnight blue pearl) paint, the paint could peel off from one or more horizontal (flat) surfaces and in recessed areas around the glass or the sliding doors. Because of this possible problem, the following areas of exterior paint on your vehicle are now covered for 7 years from its original purchase or lease date, with no mileage limit:
Roof (including under the tailgate, under the top edge of the sliding doors, and the top panel on the sliding doors)
Hood
Top half of the left and right quarter panels
Top half of the front fenders
If the paint on your vehicle is peeling or flaking in one or more of the areas listed above, take it to any Honda dealer for an inspection. If the dealer confirms the paint problem, and your vehicle is within the warranty time limit, they will arrange to have ALL possibly affected areas on your vehicle repainted, free of charge.
The warranty extension inexplicably does not cover the bumpers, front doors, bottom half of quarter panels, or the bottom half of fenders.
So what about those who don't own a 03-05 Odyssey, but are still having paint problems? Many are reporting bringing their car to an authorized dealer and being told it's normal wear and tear on the vehicle. Don't fall for it! While most modern OEM paint jobs, especially with darker colors like red, tend to oxidize and fade faster, this oxidation can typically be buffed and polished up. The flaking or paint "coming off in sheets", as Honda described it, is a much bigger problem. Here's the 4 top excuses given by Honda dealers:
Don't wash the car as often
Don't use harsh waxes
Keep the car out of the sun
Avoid Bird Poop
Good luck with those last two.
5 Most Complained About Hondas for Paint Issues ∞
Generations Where This Problem Has Been Reported
This problem has popped up in the following Honda generations.

Most years within a generation share the same parts and manufacturing process. You can also expect them to share the same problems. So while it may not be a problem in every year yet, it's worth looking out for.
OK, Now What?
Maybe you've experienced this problem. Maybe you're concerned you will soon. Whatever the reason, here's a handful of things you can do to make sure it gets the attention it deserves.
File Your Complaint

CarComplaints.com is a free site dedicated to uncovering problem trends and informing owners about potential issues with their cars. Major class action law firms use this data when researching cases.

Add a Complaint

Notify CAS

The Center for Auto Safety (CAS) is a pro-consumer organization that researches auto safety issues & often compels the US government to do the right thing through lobbying & lawsuits.

Notify The CAS

Report a Safety Concern

The National Highway Traffic Safety Administration (NHTSA) is the US agency with the authority to conduct vehicle defect investigations & force recalls. Their focus is on safety-related issues.

Report to NHTSA