Premature Brake Wear Problems in the Accord
Posted on

Author

Tagged
Key Points
8th generation Accord owners are worried about their brakes wearing out.
The redesigned sedan is heavier and the pads are either too small or weak.
Honda settled a class-action and offered reimbursements for repair costs.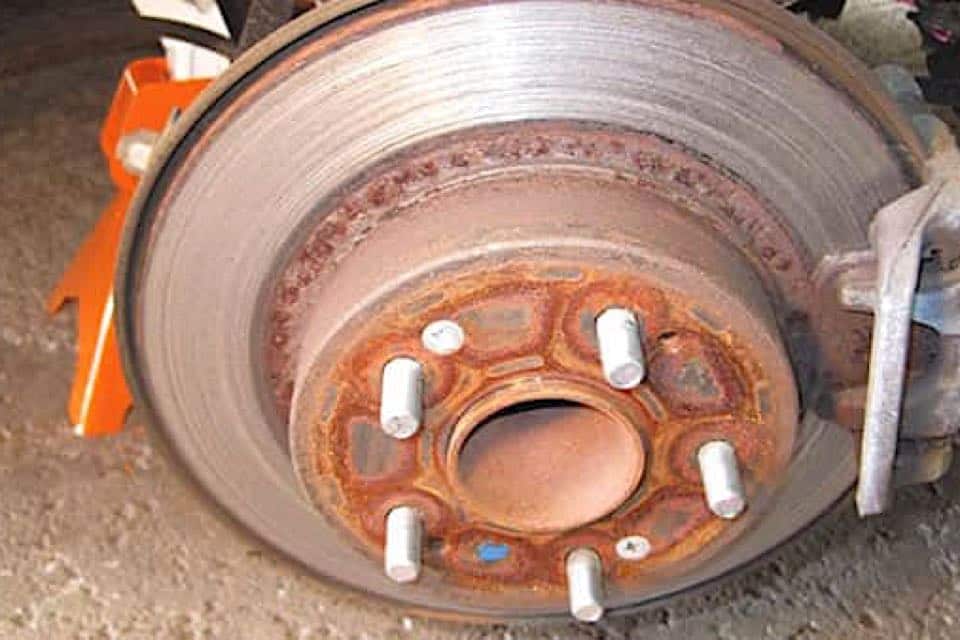 The Accord is one of the most popular sedans on the road-based on its reputation for dependability over the years. However, owners of 2008 & 2009 Accords (and a few 2010 models) are up in arms over premature brake wear that is widespread and costly to fix.
On CarComplaints.com, the 2008 and 2009 Accords have a combined total of 1,204 complaints about the rear brakes (as of late July 2010).
What is Causing These Reported Brake Problems ∞
A front-wheel drive car, like the Accord, will normally have rear brake pads that wear down at a ratio of 2-to-1 compared to the front pads. So when a large cross-section of 2008–2009 Accord owners began reporting worn rear brake pads in as few as 12k miles, clearly something with the braking system was defective.
One theory is that with the last major Accord model redesign in 2008, Honda switched to brake pads that were too small for the now heavier Accord. It's also possible that Honda switched to using a softer pad material to keep rotor wear down or used organic brake pads to minimize brake dust. Whatever the reason, the rapid decrease in braking power once you drive a new Accord off the lot is historically bad.
The 2008 & newer Honda Accord uses a new "Electronic Brake Distribution" or EBD system. While EBD makes braking safer, the Accord's new braking system is partly to blame for the premature brake wear.
This problem was listed as the 6th worst problem on CarComplaints.com's "Top Vehicle Problem Trends of 2012".
Honda Settles Brake Wear Class Action Lawsuit ∞
A class-action lawsuit was filed against Honda in September 2009 seeking restitution for 750,000 late model Accord and Acura TSX owners. The suit described a design defect in Honda's new Electronic Brake Distribution (EBD) system which leads to excessive force on the rear brake pads, which results in a vastly reduced lifespan of the pads from 70,000 miles to under 20,000 miles!
The suit claims that the average total cost to fix is about $150, but if the rotors were damaged (a likely scenario), the price can spike all the way to $650 or more.
Honda has agreed to settle the suit without actually admitting a defect exists, or admitting responsibility or any wrongdoing. However Honda has agreed to provide cash to affected Accord owners. If the settlement gains final approval by the US court, it will allow owners and lessees of the Class Vehicles to submit claims for cash reimbursement for two types of repairs:
Improved Rear Brake Pads / EBD Adjustment: Owners and lessees can pay to have newly redesigned Honda brake pads installed & also dealers can make adjustments to the EBD system. Owners will be reimbursed for their out-of-pocket costs for this work up to $150.
Previous Rear Brake Repairs: Owners and lessees will also be able to claim reimbursements for money they spent purchasing or installing rear brake pads, regardless of whether the brake pads were Honda/Acura or aftermarket. Reimbursements for prior rear brake pad replacements will be 50% of the repair costs, or up to $125 per repair, whichever is less. There is no limit on the number of rear brake repairs that can be claimed.
The settlement was given final court approval on July 26th, 2010. Additional resources on that settlement include:
How Much Will it Cost Me? ∞
Owners who have already needed brake replacements will reportedly receive only one half of the cost of repairs, up to a maximum of $125. Other owners will receive $150 towards the cost of a set of new rear brake pads that Honda says will last longer than the units being replaced. Honda has dished out about $2 million dollars to the law firm handling the case and could in total pay up to well over $100 million if all affected owners receive new brakes.
Save money by ordering parts yourself through our affiliate Auto Parts Warehouse! Have the product shipped for free and then bring it in for installation.
Generations Where This Problem Has Been Reported
This problem has popped up in the following Honda generations.

Most years within a generation share the same parts and manufacturing process. You can also expect them to share the same problems. So while it may not be a problem in every year yet, it's worth looking out for.
8th Generation Accord

Years

2008–2012

Reliability

53rd out of 58

PainRank™

45.25

Complaints

4365

Learn more about the 8th Generation Accord
OK, Now What?
Maybe you've experienced this problem. Maybe you're concerned you will soon. Whatever the reason, here's a handful of things you can do to make sure it gets the attention it deserves.
File Your Complaint

CarComplaints.com is a free site dedicated to uncovering problem trends and informing owners about potential issues with their cars. Major class action law firms use this data when researching cases.

Add a Complaint

Notify CAS

The Center for Auto Safety (CAS) is a pro-consumer organization that researches auto safety issues & often compels the US government to do the right thing through lobbying & lawsuits.

Notify The CAS

Report a Safety Concern

The National Highway Traffic Safety Administration (NHTSA) is the US agency with the authority to conduct vehicle defect investigations & force recalls. Their focus is on safety-related issues.

Report to NHTSA