Honda Settles 5-Speed Transmission Lawsuit With California Owners
Posted on

Tagged

Author

Source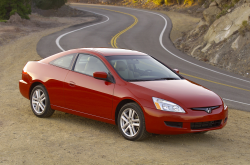 Honda wants to settle up a decade-old lawsuit about downshifting transmissions with an offer so low it's borderline insulting. A 2009 lawsuit says 5-speed automatic transmissions in some 2002-2004 Honda and Acura vehicles have a defect in the 3rd clutch. That defect can cause the transmission to suddenly downshift from 5th to 2nd gear. That's one way to reach your heart rate goal on your FitBit.
Honda has continually denied the allegations but are ready to put this whole ordeal behind them with a ... checks notes ... $25 credit towards the future purcahse of Honda parts. And you must live in California. Oh I'm sorry, should I have told you to sit down first?
There's a lot more to this settlement and David Wood over at CarComplaints.com has done an excellent breaking down the settlement terms. A final approval hearing is scheduled for January 19th, 2021.
Who's Eligible? ∞
Not only is the offer low, but the eligibility requirements are extremely restrictive.
The settlement is for owners of the 2003-2004 Accord, 2002-2004 Odyssey, and 2003-2004 Pilot with a 5-speed automatic transmission, but…
They must be California residents, and…
They must be the original owner of one of the class vehicles, and…
They must have still owned the vehicle as of December 7th, 2015. 😧
So congrats to the 10 of you that qualify and are about to get a small credit towards new rims.
More information on
carcomplaints.com
Related Honda Generations
At least one model year in these 3 generations have a relationship to this story.

We track this because a generation is just a group of model years where very little changes from year-to-year. Chances are owners throughout these generation will want to know about this news. Click on a generation for more information.
7th Generation Accord

Years

2003–2007

Reliability

58th out of 58

PainRank™

84.85

Complaints

3106

Learn more about the 7th Generation Accord

2nd Generation Odyssey

Years

1999–2004

Reliability

49th out of 58

PainRank™

31.96

Complaints

950

Learn more about the 2nd Generation Odyssey

1st Generation Pilot

Years

2003–2008

Reliability

45th out of 58

PainRank™

22.88

Complaints

663

Learn more about the 1st Generation Pilot