The Civic's Rapid and Uneven Tire Wear Problem
Posted on

Author

Tagged
Key Points
The 2006-2009 Civic suffers from unevenly worn out tires that can cause strong vibrations and braking issues.
Honda issued a TSB that offered prorated reimbursement for a rear upper control arm kit.
A lawsuit suggests the control arms were too short, leading to misalignment. The TSB was used as evidence that Honda needed to redesign the part.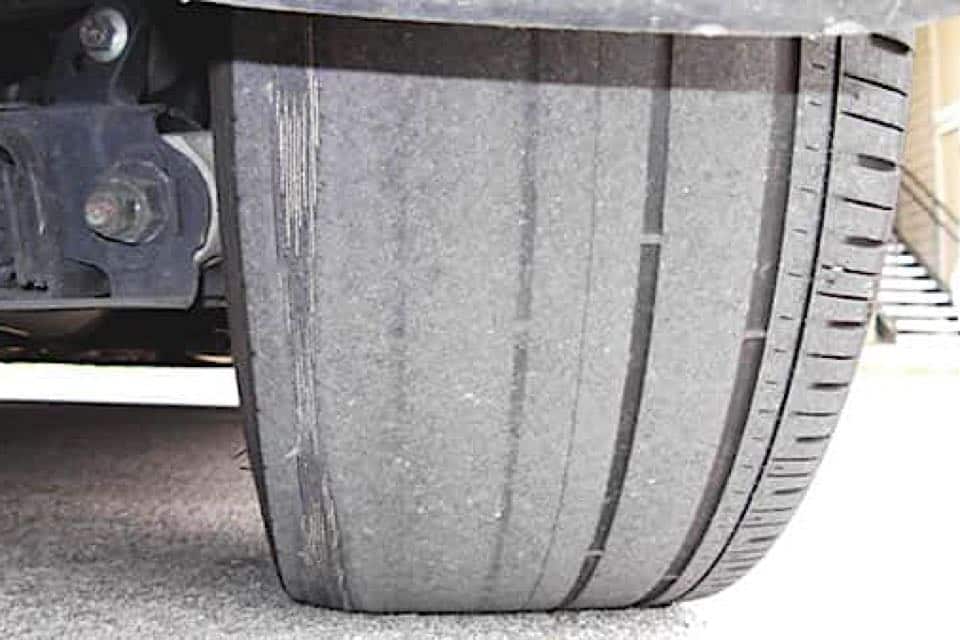 The Internet has been abuzz with complaints about uneven and rapidly wearing tires on the 2006-09 Civic. These uneven tire problems can quickly turn into braking issues and also lead to reports of difficult to control vibrations, giving some drivers fits when traveling at highway speeds.
Honda finally agreed to a class-action settlement while simultaneously refusing to acknowledge the problem exists at all. That's an impressive amount of deniability.
Why the Tires Are Wearing Out So Fast ∞
Civic owners are rallying together to raise awareness about the defectively short Rear-Upper Control Arms that are causing their tires to wear rapidly and unevenly.
Honda claims the combination of the stock tires, rear suspension geometry and alignment angles are what's causing the tire wear and recommends the installation of new control rear arms stamped with the letter "C" to fix the problem. On February 8th, 2008 they issued a TSB (TSB 08-001) describing repair procedures for certified mechanics — more details on that below. The new control arms take out .75º of camber from the rear.
Unfortunately most of the time Honda dealers are only willing to cover the cost of the control arms, but not the cost of new tires. What's worse is some owners are claiming that even after going through the repairs outlined in the TSB their cars are still "eating up" rear tires. According to one: "...the rear wheel geometry will not allow for carrying any kind of load for extended distances" Not a good sign for anyone looking to use their can for anything more than trips to the grocery store.
Honda's Technical Service Bulletin for the 2006-2007 Civic ∞
On February 8th, 2008 Honda issues a Technical Service Bulletin for 2006-07 Civic 2-door and 4-door vehicles regarding "Uneven or Rapid Tire Wear". Honda Civic Si's are not covered. In the TSB, Honda lists the probable cause as a "combination of the tires and the rear suspension geometry may cause rapid or uneven tire wear". They go on to point out that worn tires will cause vibration and/or bad bearing noise, especially at highway speeds.
For recommended service, Honda tells its mechanics to install a rear upper control arm kit, replace the flange bolts and the worn tires and do a 4-wheel alignment.
Honda offered to only pay a prorated amount for replacement of tires due to this problem, based on mileage. In addition, to qualify for tire replacement:
The tires must have been properly maintained (inflation and balancing)
The tires must not show signs of abuse, although this seems subjective
Tires must not show signs of diagonal or inner edge wear and fall within the "abnormal wear range" as defined by the TSB.
Tire Misalignment Lawsuit ∞
Mazie Slater Katz & Freeman, LLC collected information for a class action lawsuit to protect Civic owners. The lawsuit alleged the OEM rear upper control arms are too short and cause tire misalignment. It also alleged that Honda knew this when it published a TSB and a redesigned control arm part.
Following a three-year battle, Honda finally agreed to a settlement on December 4, 2013. The settlement only affects the 2006-07 Civic and 2006-08 Civic Hybrids.
Honda continues to deny there is a problem (shocking, I know) but as part of the settlement they've agreed to replace worn out tires and the defective suspension. If you have replaced your tires because of the problem Honda will reimburse you on a pro rata basis. Time to start digging out those service records. In addition, if you paid to replace a control arm on your Civic because of tire problems, Honda will reimburse you for parts and labor.
Unfortunately the deadline to file a claim has passed.
So now what? We recommend making your voice heard.
Generations Where This Problem Has Been Reported
This problem has popped up in the following Honda generations.

Most years within a generation share the same parts and manufacturing process. You can also expect them to share the same problems. So while it may not be a problem in every year yet, it's worth looking out for.
8th Generation Civic

Years

2006–2011

Reliability

55th out of 58

PainRank™

51.64

Complaints

2948

Learn more about the 8th Generation Civic

2nd Generation Civic Hybrid

Years

2006–2011

Reliability

30th out of 58

PainRank™

8.59

Complaints

166

Learn more about the 2nd Generation Civic Hybrid
What Owners Say About This Problem
I think I'm too late to file a claim for the control arm issue. I've had to replace my tires once a year since I bought it 5 years ago. I also have to replace the front brakes almost every year, which I believe is related to the whole premature wearing and whatever else is causing the frequent replacing of tires.
OK, Now What?
Maybe you've experienced this problem. Maybe you're concerned you will soon. Whatever the reason, here's a handful of things you can do to make sure it gets the attention it deserves.
File Your Complaint

CarComplaints.com is a free site dedicated to uncovering problem trends and informing owners about potential issues with their cars. Major class action law firms use this data when researching cases.

Add a Complaint

Notify CAS

The Center for Auto Safety (CAS) is a pro-consumer organization that researches auto safety issues & often compels the US government to do the right thing through lobbying & lawsuits.

Notify The CAS

Report a Safety Concern

The National Highway Traffic Safety Administration (NHTSA) is the US agency with the authority to conduct vehicle defect investigations & force recalls. Their focus is on safety-related issues.

Report to NHTSA