Why do the Accord's LED Daytime Headlights Burn Out So Fast?
Posted on

Author

Tagged
Key Points
The strip of LED daytime running lights (DRL) on Accord sedans can quickly fizzle out.
Because of the headlight assembly design, you can't just replace the LED lights making repairs expensive.
Some owners let them burn out but there are safety concerns.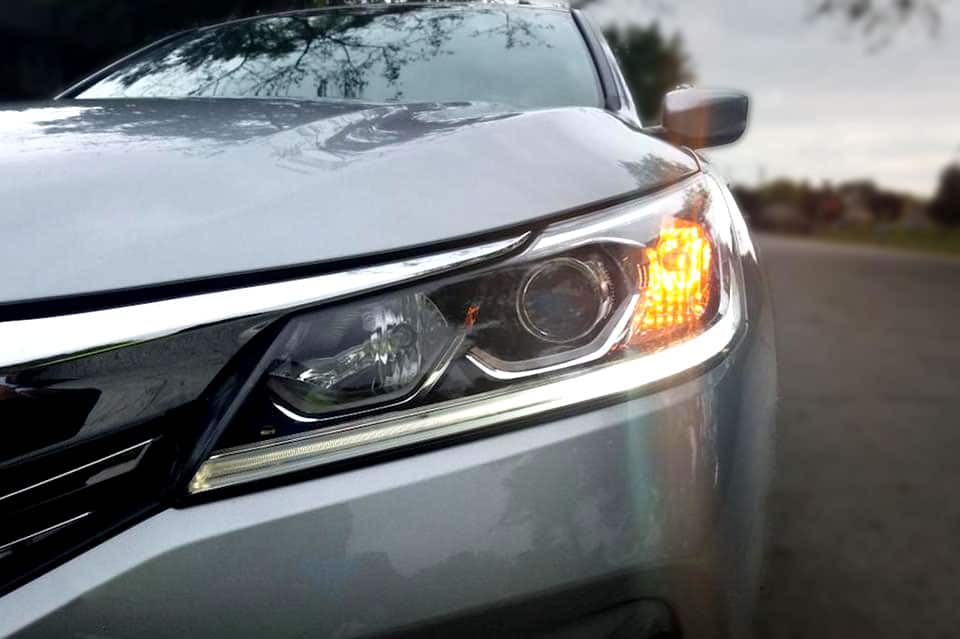 The 9th and 10th generation Accord have a strip of LED lights running along the bottom side of the headlight assemblies which serve a dual purpose.
They stay on whenever the engine is running as daytime running lights (DLR).
They mimic a look that was once reserved for the BMWs and Audis of the world. I believe the word I'm looking for here is fancy pants.
Maybe its personal preference, but I'll admit the lights do look nice. That is, until the entire strip (or half the strip, in some cases) goes out for no reason. Reports indicate failures of the Accord's DLR as early as 10,000 miles.
And here's the kicker — because of the way Honda designed the headlight, if you want to replace the LEDs you need to replace the entire assembly. It's almost like they expected the LEDs to be the least of their worries.
Replacing the entire assembly can cost over $1,400 per light. None of this sounds efficient or cost-effective.
Yes, It's Covered Under Warranty ∞
The headlight assembly is 100% covered by Honda's standard 3 year / 36,000 mile warranty and owners generally report the warranty experience is smooth sailing with no paper trails or negotiating needed. Which is good when you consider some owners have needed to have the same light replaced multiple times within the warranty period.
But the moment your odometer hits 36,001 miles, Honda doesn't appear to be in the mood for any "charitable repairs." Consider that they've sold over 830,000 of the Accords in the US alone[1], and that many of those have probably needed warranty headlight repairs. Some have needed more than one. That must be costing the company a fortune because I hear those assemblies cost a ton to replace.
Any Chance of a Lawsuit? ∞
Out-of-warranty owners are on the hook for the expensive repairs, but the law firm of Cafferty Clobes Meriwether & Sprengel LLP is investigating a potential class-action lawsuit on behalf of owners of Honda Accord vehicles (model years 2016-18) equipped with daytime LED headlights that are prone to fail prematurely.
_ Many vehicle owners also report multiple headlight failures within the first few years of ownership. As a result, current and former owners and lessees may be forced to keep vehicles that do not perform as warranted and may ultimately require costly and repeated repairs for which vehicle owners will pay out-of-pocket._
They're looking to hear from owners who have been forced to pay out-of-pocket for these repairs, and are worried they'll probably have to do it again soon.
Can't I Just Let Them Burn Out? ∞
A question we see a lot is — do I really need to replace my daytime running lights, can't I just let them burn out? It depends.
While there is plenty of debate over their effectiveness, certain countries have strict DRL laws on the books. They are usually places that have long, dark winters (I'm looking at you Canada and northern Europe).
There are no DRL laws in the US, but they do come in handy in states that require lights to be on whenever the windshield wipers are running. Of course you can get around that by, you know, turning your actual headlights on when it's raining.
Then, of course, there's just the aesthetics of having a partially lit LED strip on the front of your car.
---
---
Headlight image adapted from 2016 Accord owner image submitted to
CarComplaints.com
Generations Where This Problem Has Been Reported
This problem has popped up in the following Honda generations.

Most years within a generation share the same parts and manufacturing process. You can also expect them to share the same problems. So while it may not be a problem in every year yet, it's worth looking out for.
10th Generation Accord

Years

2018–2020

Reliability

40th out of 58

PainRank™

17.2

Complaints

201

Learn more about the 10th Generation Accord

9th Generation Accord

Years

2013–2017

Reliability

54th out of 58

PainRank™

49.34

Complaints

1341

Learn more about the 9th Generation Accord
OK, Now What?
Maybe you've experienced this problem. Maybe you're concerned you will soon. Whatever the reason, here's a handful of things you can do to make sure it gets the attention it deserves.
File Your Complaint

CarComplaints.com is a free site dedicated to uncovering problem trends and informing owners about potential issues with their cars. Major class action law firms use this data when researching cases.

Add a Complaint

Notify CAS

The Center for Auto Safety (CAS) is a pro-consumer organization that researches auto safety issues & often compels the US government to do the right thing through lobbying & lawsuits.

Notify The CAS

Report a Safety Concern

The National Highway Traffic Safety Administration (NHTSA) is the US agency with the authority to conduct vehicle defect investigations & force recalls. Their focus is on safety-related issues.

Report to NHTSA