Government Petitioned to Look Into Strange Steering Issues in 2013 Accord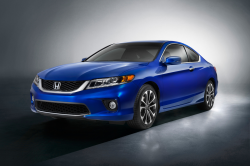 A Honda owner has petitioned the government to look into some bizarre and dangerous power steering issues in the 2013 Accord. The owner claims the car suddenly pulls to the side without any warning. And he's not alone. There are hundreds of steering complaints about wonky steering behavior, particularly in the the 2013 model year.
About the Problem ∞
Fed up owners have posted about experiments they conducted where they straightened out the car, took their hands off the wheel, drove forward, and quickly found themselves driving in a circle.
The issue appears to be realted to the power steering rack and a new one will run owners about $2,500 big ones.
Is it covered under warranty? Yes ... with a big ole' cavaet. As reported by the petition filer, Honda technicians were able to replicate the problem but won't cover the repair under warranty unless two specific error codes are triggered. And because life is unfair sometimes, those error codes are rarely triggered.