3rd Generation CR-V Power Door Locks Keep Malfunctioning
Key Points
Faulty door lock actuators in the 2007-2011 CR-V make the door locks unpredicatable.
Owners have shelled out thousands for repairs because the same parts fail repeatedly.
After lawsuits, Honda extended the warranty in 2015 but that has since expired.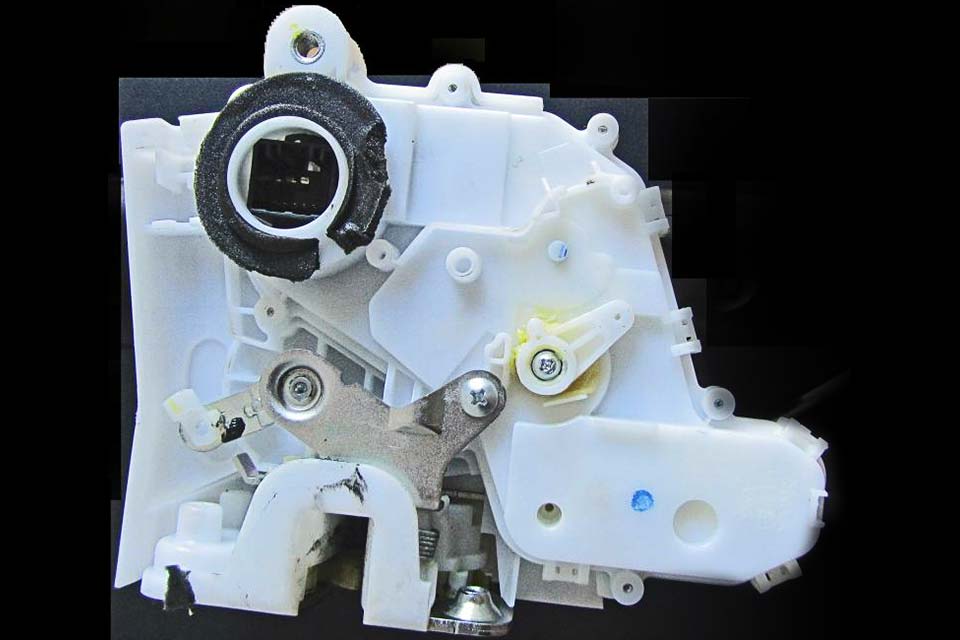 The door locks in the 3rd generation CR-V (2007-2011) stink. They won't lock when you want them to, or they'll randomly unlock while driving, and then they just stop working all together.
The problem is with the door lock actuators. An actuator is the behind-the-scenes magic that make power door locks possible. They have an electric motor, gears, and some sort of linkage or cable to operate the lock. And the ones that Honda installed are really prone to failure.
Common Complaints About the Door Locks ∞
As you might imagine, the most common complaints about these door locks is they don't behave as you'd expect. For example, they almost instantly lock up as soon as you unlock them.
The front passenger door locks immediately (2 seconds) after it is unlocked so passengers are unable to enter or exit the vehicle without reacting instantly. When I inquired at the Honda dealer what it would take to fix it, I was told it would cost $300!
Or they unlock at random while driving.
While driving the doors will unlock on [their] own and I feel unsafe as I travel with my grand children and worry when the doors will unlock on [their]\ own. I also re-lock the door but as I keep driving the door will again unlock on its own.
Safety concerns ∞
Of course the biggest issues are the safety concerns with unreliable door locks:
Some owners are worried about theft after finding their parked cars had unlocked themselves.
Others are worried about being locked out of the car in cold weather.
Scariest of all is the realization the locks might not let you out of the car in an emergency, such as after a crash.
Expensive to replace (over and over again) ∞
On average, these lock problems really start to pick up around 85,000 miles which is well outside Honda's standard 3-year / 36,000 mile warranty.
The average repair cost per actuator is between $300 and $400 and owners say they've had to replace the same actuator twice because Honda replaced the defective part with a newer, but equally defective part.
Honda must have figured something out ∞
There are a ton of complaints about the door locks in the 2007 and 2008 model years. But complaint volume took a sharp dive for the 2009, 2010, and 2011 model years.
This suggests Honda swapped out the bad actuators in a refresh of the 3rd generation, but didn't offer any assistance to owners stuck with defective parts.
Honda Sued for Actuator Failures ∞
A proposed class-action lawsuit for door lock failures was filed against Honda in early 2013.
The complaint alleges that the door locks are defective, resulting in potential safety issues and lots of expensive repairs that often fall outside the warranty period.
The lawsuit, Kevin Davitt, et al. v. America Honda Motor Co., Inc., et al., accused the automaker of violating consumer fraud statutes in New Jersey, Florida, and California and caught recovery for breach of express warranty. In other words, Honda should pay for the door locks repairs because they are clearly defective.
Honda agrees to settle the lawsuit ∞
In September of 2014 the automaker agreed to settle the lawsuit with the following terms:
Honda paid out $1.4 million in attorney fees 😱
Additionally, Honda paid each of the three lead plaintiffs $1,500
Most importantly, Honda agreed to an extended warranty period for 2007-2011 CR-V owners
The lawsuit needed final approval from a judge, and it didn't receive that approval until May of 2015. By that time the terms had changed:
The warranty extension is only available to 2007-2008, and some early 2009 model year CR-Vs.
The driver's door lock can be replaced for free, even if it hasn't shown any signs of failure, as long as it had not already been replaced.
All passenger locks will only be replaced if a technician can verify they've failed.
The Extended and Now Expired Door Lock Warranty for CR-V Owners ∞
As part of the settlement, Honda extended the warranty on all four door lock actuators to 6 years from the original date of purchase, essentially doubling the coverage.
The warranty extension expired on November 7th, 2015.
It covered any 2007-2009 CR-V vehicles. There are two service bulletins (SB) available for more information:
The reason for two service bulletins is because Honda allowed the driver's door lock to be replaced even if it wasn't failing (yet), but all passenger door locks needed to have a verified failure from a service technician before they were eligible for replacement. Which is frustrating because the locks may not consistently fail.
Actuator problems continue to plague owners ∞
As mentioned above, the average mileage where the door actuator problems get really bad is around 85,000 miles. Which for many owners not only falls outside of Honda's original 3-year warranty, but also outside of their 6-year warranty extension as well.
And all of that is moot at this point, because Honda placed a date cap on the extension offer.
At this point, Honda says all 3rd generation CR-V owners are on their own if (and when) their door locks fail. A frustrating end to a problem that still often ends up near the top of a list of the most common complaints for 2007-2011 CR-V owners.
Lawsuits Regarding This Problem
Lawsuits about this problem have already been filed in court. Many times these are class-action suits that look to cover a group of owners in a particular area. Click on the lawsuit for more information and to see if you're eligible to receive any potential settlements.
The plaintiffs alleged that the actuator, which is part of the door lock system, is defective and that Honda knew about the defect in CR-V models in years 2007 through 2011, but kept this information from Honda CR-V owners and lesses so the automaker would not have to cover the repair under the three-year warranty.
Generations Where This Problem Has Been Reported
This problem has popped up in the following Honda generations.

Most years within a generation share the same parts and manufacturing process. You can also expect them to share the same problems. So while it may not be a problem in every year yet, it's worth looking out for.
Further Reading
A timeline of stories related to this problem. We try to boil these stories down to the most important bits so you can quickly see where things stand. Interested in getting these stories in an email? Signup for free email alerts for your vehicle over at CarComplaints.com.
Honda CR-V door lock actuator complaints have flooded the Internet for years. Owners were fed up with the faulty actuator causing the door locks to fail.

Now thanks to a class-action settlement, owners of the 2007-2011 CR-V have a little something to celebrate.…

keep reading
What Owners Say About This Problem
Right rear door lock started making a loud snapping sound when locked. Replaced actuator for about $400. Then right front and rear doors started to malfunction. Fixed the worst one, right front for about $300. The other two doors are in need for repairs, according to my mechanic.
OK, Now What?
Maybe you've experienced this problem. Maybe you're concerned you will soon. Whatever the reason, here's a handful of things you can do to make sure it gets the attention it deserves.
File Your Complaint

CarComplaints.com is a free site dedicated to uncovering problem trends and informing owners about potential issues with their cars. Major class action law firms use this data when researching cases.

Add a Complaint

Notify CAS

The Center for Auto Safety (CAS) is a pro-consumer organization that researches auto safety issues & often compels the US government to do the right thing through lobbying & lawsuits.

Notify The CAS

Report a Safety Concern

The National Highway Traffic Safety Administration (NHTSA) is the US agency with the authority to conduct vehicle defect investigations & force recalls. Their focus is on safety-related issues.

Report to NHTSA